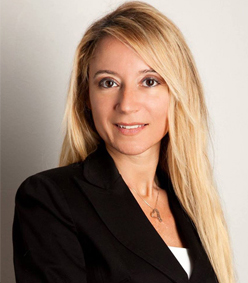 Antonella Martino Pharm.D.
Consultant Pharmacist, Diabetes Educator certified on Medication Therapy Management (MTM), she considers education the most essential tool in taking control of one's health and wellness.
For this reason, as a healthcare educator and provider, she specializes in medication therapy management and in diabetes and disease prevention and training. She labors promoting health in the most non-pharmacological way, whenever it is safe. She wants to empower each individual to take full responsibility for his/her health through education and lifestyle interventions as primary tools.
She founded the Health Consultant Pharmacists of America, Inc., which seeks to inform on how to prevent and reverse different medical conditions affecting large portions of the population and how to improve health awareness for those who use her services as a means of achieving an optimal life.
Dr. Martino believes that someone taking several medications has to become educated and understand the implications of their treatment in order to improve the intended therapy outcomes. She further holds that not having a basic understanding of the complexity of taking pharmacological agents, their interactions and how the body works is a perfect prescription for disaster.
She also speaks publicly encouraging others to become aware of best practices in health self-management. Occasionally she works as a translator for medical books.
Her passion and her journey of service in helping others to find the real and natural meaning of health began with an event in her personal life. It led her to question whether medications should be the only answer to treating disease and whether our personalized relationship to foods could ultimately change our perspectives on health and wellness.
Born in Italy and having lived in the countryside, Dr. Martino learned about foods produced locally and organically through generations. She came to appreciate the value of foods from a cultural perspective; she has since applied these influences to the work of preventing and managing disease in today's world, here in this country.
Graduating with a doctorate in pharmacy in 2004, she currently works as a licensed pharmacist in Florida and Arizona. In addition, she has a license as a consultant pharmacist and coordinates her diabetes self management course accredited by the American Association of Diabetes Educators.
Dr. Martino has focused her attention on supporting efforts within her profession that advocate for comprehensive and individualized wellness education as a way of promoting health and disease prevention, while at the same time avoiding the use of unnecessary medications, thus preventing undesired events and complications from the incorrect management of therapies.
She conducts personalized visits and consultations with individuals, helping them learn about the body's capacity to heal itself and addressing the value and benefits of a lifestyle that includes healthy nutrition, physical activity, stress management, positivity and much more.
In her primary role, Dr. Martino seeks to support the community by emphasizing the importance of the information and knowledge that a pharmacist can provide.